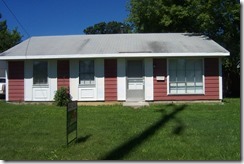 547 Uncapher Ave., Marion, OH
Take a look at this nice 3 bedroom ranch.  It has a fenced yard, new yard barn (September, 2017) and new carpet and laminate flooring (November, 2015).  It just came back to us after being rented for 18 months.  We haven't had time to do any maintenance here so we're making the rent attractive for the tenant-buyer who would be interested in a LEASE WITH OPTION TO BUY only.  We hope you'll drive by; but you should know the house is now yellow.  The most recent picture disappeared in our computer so we had to use this one.  Phone Bill, 740-360-2142, for more information.
LEASE WITH THE OPTION TO BUY:  
Here is an opportunity for home ownership.  Our terms are flexible.  This program allows you to "try before you buy".  Call Bill Your (740-360-2142) and let's talk over how we can put you in a home as well as help you purchase that home should you decide that is what is right for you.
Down payment:  $1450
Monthly payment:  $575 + $45 sewer bills we pay on your behalf. 
Purchase Price:  $58,900. 
Contribution from seller as a credit to your closing costs or down payment requirement:  Up to $3500. 
Income requirement:  $1800 or more gross verifiable monthly income.
*****************************************************************************************
William X. Your is an owner-agent licensed and associated with Marvich Realty in Marion, OH.