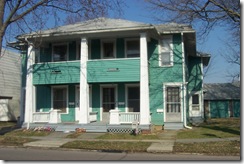 138 Baker Street, Marion, OH
This unit is an upper apartment in a four-unit building. It has approximately 1000 square feet. This building is located in southeast Marion just off E. Center Street. It is actually within a few blocks of the Marion public library, the Harding home, Grant Middle School, and the downtown area. This building has been well maintained. This apartment features a large living room which could also be used as a master bedroom and a dining room/family room. The kitchen is carpeted and includes a newer range and refrigerator and provides an entrance to the rear covered porch. The bath has tub and shower. The bedroom on the main level is carpeted. A loft area is on the upper level; this room has its own heating unit and also provides outlets for either 110 volt or 220 volt air conditioners. This area has some headroom limitations, but cannot be used as a bedroom by anyone under the age of 15 years old.  This unit heats well due to good insulation and newer furnaces in the building. Storm windows and screens, covered front and rear porches, and a nice rear yard add to the comfort of this apartment's residents.  Off-street parking is available on the south side of the building—extra wide driveway. There is also a driveway on the north side of the building; this parking area is allocated to the lower unit, but possibly may be available if not needed by a tenant in that unit. This apartment is in excellent condition.
Room Sizes:
Living Room/Master BR: 12'6" x 17'3"
Kitchen: 7'x 13'6"
Bedroom: 9' x 13'6"
Dining Room/Family Room: 14' x 14'
Bath: 4'8" x 13'6"
Loft Area: Irregular-Approximately. 180 sq. ft.
Gas (heat and hot water), water, storm sewer, sanitary sewer, range, refrigerator, lawn service and off-street parking are included in the rents quoted below. Tenant pays electric and trash. 
QUALIFYING REQUIREMENTS: Satisfactory completion of an application. Must meet income requirements. Acceptable income verification forms include Federal tax return for 2012, W-2's, 1099's, the most recent pay stub showing year to date earnings or official documentation such as an award letter that verifies your current income. 5 year source of income history. 5 year residence history including landlord's names and contact information. No evictions. Fixed monthly obligations (loan payments, child support, court-ordered payments, not routine expenses such as groceries, gas, utilities etc.) that do not exceed 36% of verifiable gross monthly income based on 2013 income. No other credit or financial situations that management deems to be potentially detrimental to our business interests.
LEASE
MONTHLY LEASE PAYMENT: $450
SECURITY DEPOSIT: $450
TERM: 6 months
INCOME REQUIREMENTS: $1300 or more on average as current gross monthly income. 2012 income must be verifiable at $15,500 or more, but no more than 5% higher than current gross monthly income.
OTHER INFORMATION:
TERMS:  All terms on this page, as well as those anywhere on our website, or any other printed information are subject to change at any time without notice.
PETS:  Most pets acceptable.   Pet fee and additional security deposit will apply.   Dog owners must get tenant's insurance.
CONTACT INFORMATION:   Phone (740) 360-2142, (740) 389-3277. e-mail:  bill@itsallyours.com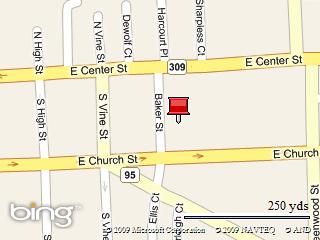 William X. Your, trustee for the trust that owns this property, is a licensed real estate broker, employed as a sales agent with Marvich Realty, 460 Delaware Avenue, Marion, OH 43302.