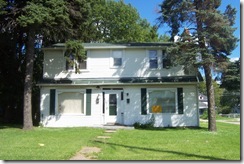 604 N. Main, Rear
This unit is a 1st floor) apartment. It has approximately 750 square feet. This building is located in a light commercial area on the north side of the downtown area. It is within easy walking distance of several restaurants, a convenience store, a video store, and two small department stores. Several upgrades have been made to this building in the last few years: new roof sheeting and shingles, new vinyl replacement windows with low e-grade glass and screens, and some berber carpeting. This apartment includes: living room overlooking the kitchen, including washer/dryer hookups in an adjoining utility closet, dining room or bedroom adjoining the kitchen and featuring a large picture window, a kitchen with refrigerator and built-in range and oven, a bath with tub and shower, the other bedroom adjoins the kitchen on the other side of the apartment and includes a very large walk-in closet.  A nice yard and convenient off-street parking are other features the resident of this unit will enjoy.
Best Features of This Apartment: Gas, water, sewer included, Insulation, Built-in appliances, large picture window, Newer replacement windows and furnace, Washer/dryer hookups, Good closets, Good parking, adaptable for handicap access
Room Sizes:
Living Room: 10 X 14
Bedroom or Dining Room: 10 x 11
Bedroom: 9'6 X 9'6 plus a 4' x 4' closet
Kitchen: 10'6 x 11
Bath: 6'9 X 6'9
Gas (heat and hot water), water, storm sewer, sanitary sewer, range, refrigerator, lawn service and off-street parking are included in the rent.  Tenant pays electric and trash.  (See also ALTERNATIVE RENT below)
RENT:  $510;  Add $15 if a clothes washer is to be installed in this apartment.
SECURITY DEPOSIT:  $255
CLEANING CHARGE:  $255
INCOME REQUIREMENT:  $1500/month or more gross verifiable income; $18,000 or more for 2015
APPLICATIONS: We require that each adult who will be residing at the property complete and submit a rental application for approval. There is no application fee. Stable and verifiable monthly income is a major consideration, but additional information also will be looked at. A high percentage of our clients do not have perfect credit; medical bills and certain other obligations will not disqualify anyone from being approved. We encourage everyone who has interest in one of our units to apply. It is our policy to personally discuss each applicants' situation with them as part of the application review process. Most completed applications received result in approval of that applicant.
TERMS: All terms on this page, as well as those any where on our website, or any other printed information are subject to change at any time without notice.
PETS: Approved pets permitted. Upfront and monthly pet fee will be required; dog owners must get tenant's insurance.
CONTACT INFORMATION: Text/Phone (740) 360-2142. E-mail: bill@itsallyours.com
William X. Your, trustee for the trust that owns this property, is a licensed real estate broker, employed as a sales agent for Marvich Realty, 460 Delaware Avenue, Marion, OH. Phone (740) 360-2142 for additional information.