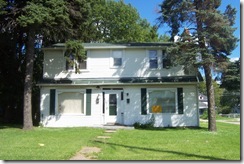 604 N. Main, Rear
This unit is a 1st floor) apartment. It has approximately 750 square feet. This building is located in a light commercial area on the north side of the downtown area. It is within easy walking distance of several restaurants, a convenience store, a video store, and two small department stores. Several upgrades have been made to this building in the last few years: new roof sheeting and shingles, new vinyl replacement windows with low e-grade glass and screens, and some berber carpeting. This apartment includes 4 rooms: living room overlooking the kitchen, including washer/dryer hookups in an adjoining utility closet, one bedroom adjoining the kitchen and featuring a large picture window, a kitchen with refrigerator and built-in range and oven, a bath with tub and shower, the other bedroom adjoins the kitchen on the other side of the apartment and includes a very large walk-in closet. A nice yard and convenient off-street parking are other features the resident of this unit will enjoy.
Best Features of This Apartment: Utilities included, Insulation, Built-in appliances, large picture window, Newer replacement windows and furnace, Washer/dryer hookups, Good closets, Good parking, adaptable for handicap access
Room Sizes:
Living Room: 10 X 14
Bedroom:  11 x 14
Bedroom or Dining Room: 10 x 11
Bedroom: 9'6 X 9'6 plus a 4' x 4' closet
Kitchen: 10'6 x 11
Bath: 6'9 X 6'9
Gas (heat and hot water), water, storm sewer, sanitary sewer, range, refrigerator, lawn service and off-street parking are included in the rents quoted below. Tenant pays electric and trash.

QUALIFYING REQUIREMENTS: Satisfactory completion of an application. Gross monthly Income that is verifiable. No evictions. Fixed monthly obligations (loan payments, child support, court-ordered payments, not routine expenses such as groceries, gas, utilities etc.) that do not exceed 36% of verifiable gross monthly income. No public record, credit or financial situations that management deems to be potentially detrimental to our business interests. We require all of our residents to purchase a tenant's insurance policy with liability coverage and with William Your named as an additional insured.

LEASE:
MONTHLY LEASE PAYMENT: $530
CLEANING CHARGE: $155
DEPOSIT:  $375
LEASE TERM: 1 year
INCOME REQUIREMENTS: 2014:  $19,000 or more gross verifiable income for the year. 2015: $1625 or more in gross verifiable monthly income. We reserve the right to accept an applicant with lower income under very specific conditions.
SHORT TERM RENTAL (Minimum 3 months): Terms quoted upon request
OTHER INFORMATION:
TERMS: All terms on this page, as well as those anywhere on our website, or any other printed information are subject to change at any time without notice.
PETS: We will accept most pets for this unit.  Upfront pet fee and monthly pet fee will apply
CONTACT INFORMATION: Phone (740) 360-2142. e-mail: bill@itsallyours.com.
William X. Your, trustee for the trust that owns this property, is a licensed real estate broker in the state of Ohio.