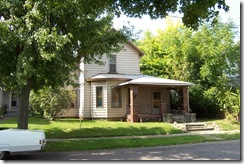 187 Olney Avenue, Marion, OH
This single-family home has approximately 1935 square feet and is a 2-story. There are 4 bedrooms, with one on the 1st floor. There are two baths. The 1st floor is shower only; the 2nd floor is tub and shower. The first floor includes a living room, a dining room/family room, a large bedroom and a kitchen with adjoining pantry and laundry room as well as an heated and finished entry area from the front porch. The second floor includes three bedrooms and a full bath. There is a partial (1 room) basement. This home is heated with a gas forced air furnace and electric baseboard heating units with individual thermostats. It has upgraded wiring, full insulation, newer roof sheeting and shingles. It has aluminum siding, a large covered front porch, and a tree shaded yard. It also has an oversized (20′ x 30′) 2-car detached garage. The rear yard is fenced. A parking area for at least two cars is situated at the rear of the lot off the alley.
Best Features of This Home: Large home with large rooms, 2 full baths, Main floor laundry, 1st floor bedroom, Good closets and storage, Bamboo wood floors on the first floor, Ceramic tile floors in kitchen, bath and laundry room, Newer carpet, Minimal maintenance exterior, Oversize 2 car garage, Fenced rear yard
Room Sizes:
Entry Area: 9'6 x 13'6
Living Room: 13'6 x 15
Kitchen: 11'4 x 12
Pantry: 4 x 7
Bedroom: 14 ½ x 15 (1st floor)
Dining/Family Room: 14'6 x 15
Laundry: 7'6 x 11'6
1st Floor Bath: 6'6 x 7
2nd Floor Bath:
Bedroom: 13'3 x 15 (2nd floor)
Bedroom: 8 x 14'3 (2nd floor)
Bedroom:
Lot: 45' x 180'. Taxes: $756/year
SORRY THIS PROPERTY IS NOT AVAILABLE FOR RENT OR AS A SIMPLE LEASE.  IT IS ONLY AVAILABLE AS A LEASE WITH OPTION TO PURCHASE

LEASE WITH THE OPTION TO PURCHASE: If you would like to be a homeowner, we will give you an option to buy on this property. This is not a land contract or installment purchase of any kind. You will need to qualify for financing or obtain funds to pay the purchase price of the property during the term of your option agreement.
MONTHLY LEASE PAYMENT: $650 + $50 sewer bill allowance (goes to the city of Marion)
INITIAL OPTION CONSIDERATION PAYMENT(Payable prior to occupancy): $1400. 
RENT CREDIT: $200/month/first year; $150/month/second year; $100/month/third year. This benefit begins as soon as the total option consideration, which is $3500, has been paid in full
LEASE and OPTION TERM: 3 years; shorter terms available.  Resident is free to complete the sale of the property at any time within the option term agreed upon.  Lease term longer than one year will result in a rent increase approximating 5% effective in month 13 and month 25; the actual amounts will be clearly indicated on your lease.
INCOME REQUIREMENTS: $31,000 or more in gross income for 2014; $2600 or more in gross verifiable monthly income during 2015.
ADDITIONAL REQUIREMENT: Each proposed adult resident must supply an up-to-date copy of their credit report (These are available at no cost to you; we'll give you instructions on how to obtain this). 
ADDITIONAL INFORMATION:  This property needs some detail work to complete the remodeling that was begun a couple of years ago.  We have identified all the work to be done on this property; we are prepared to share this information with anyone interested in the property.  It is possible to reduce your rent by up to $200/month by taking on these minor jobs.  Additionally, it is possible to get up to $400/month in additional option consideration (money towards the purchase of the house) for work completed.  We will either supply materials or pay the cost of materials needed.  In some cases, depending on decisions made by you, we may be only willing to pay part of the cost of materials.  NO ONE SHOULD AGREE TO THIS UNLESS THEY HAVE THE CASH RESOURCES, SKILLS, EXPERIENCE AND THE TOOLS NECESSARY TO DO THE WORK NEEDED.  We will require  credible evidence that this is the case.  All completed work will be inspected and a determination made at that point as to the amount of rent credit and option consideration to be awarded.  The amount awarded will be split with $2 going to option consideration for every $1 allowed in rent credit.
PROPERTY UPGRADE:  Other upgrades, maintenance, and repair to the property will be considered upon request from the resident.  Flexible arrangements are always possible in getting projects completed, however, there must be financial participation by the tenant-buyer.  Often this type of situation is handled with the owners handling 50% of the project cost and the resident paying 50% of the project cost.  No work can be started, however, until a financial agreement is reached and any funds from the residents have been deposited with the owner.

Purchase price of the property: $67,900.

OTHER INFORMATION:
· TERMS: All terms on this page, as well as those anywhere on our website, or any other printed information are subject to change at any time without notice.
· UTILITIES: The cost of storm and sanitary sewer charges as assessed by the city of Marion is included in the monthly rent. We will pay these costs for you; the city otherwise would bill you for this expense. The resident is responsible for the payment of all other utilities: Gas, water, electric, and trash
· PETS: Pets are approved on a case-by-case basis. An upfront pet fee as well as a monthly charge will apply.
-CONTACT:  Bill Your, 740-360-2142, bill@itsallyours.com
·