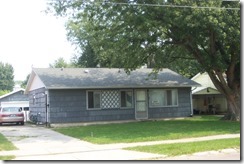 826 Central
This single-family home has approximately 1000 square feet. It is a 3 bedroom ranch with detached 1 1/2 car garage. Bath with tub and shower. Newer gas forced air furnace with central air(July, 2016). The extra large living room and dinette are carpeted.  Newer vinyl floor covering elsewhere except for the kitchen and pantry area which has ceramic tile.  Double closets in two bedrooms, Gas hot water tank, covered rear patio accessible through atrium door in the smallest bedroom, a second patio adjoins the garage, concrete drive raised planting beds in front of the house, chain link fence enclosing the rear yard.  House has cedar and vinyl siding. A major remodeling was completed on this house in Spring, 2016 and the home overall is in excellent condition. Lot: 55 x 130.  Metropolitan housing applicants considered.
Room Sizes:
Living Room: 14' x 16'3
Bedroom: 10'6 x 12'3
Dinette Area: 6'4 x 11'3
Bedroom: 10'6 x 12
Kitchen: 9'6 x 11'3
Bedroom: 9 x 10'6
Pantry Area: 3'6 x 11'3
Bath: 5 x 6'6
LEASE: 
RENT:  $730/month  +  $45 is added to this amount to both sewer bills to the city of Marion
SECURITY DEPOSIT: $775.  If it would be helpful, you may pay this at $275 prior to occupancy and then $85 as an addition to your rent each month for the next 6 months.
UTILITIES:  Residents will pay gas, water, electric, and trash 
LEASE TERM:  1 year.  Leases of other lengths up to 5 years are available
APPLIANCES:  Kitchen range and refrigerator may be available.  There is an upfront fee of $150 to move these appliances in.  Thereafter, you will have a $35/month added to the base rent as well as an additional $35 on the security deposit.           

INCOME REQUIREMENTS:  $2200/month gross verifiable income or more for 2017  

TO APPROVE YOU FOR A LEASE:
1)  Complete and submit an application for each proposed adult resident.   There is no application fee.  The agent who shows you the house will supply you with our application.  We also can handle the application in a phone interview; for some people this is more convenient.
2)  Verify that your household income is equal to or greater than the amount noted above.  This is total gross household income.  Current pay stub for 2017 showing year-to-date earnings and/or award letters are acceptable for verification; letters from employers are not acceptable.  Marion Metropolitan Housing approved applicants are exempt from income requirements, but are expected to have cash income that does not include what Met housing pays, food stamps, or percentage of income payments for utilities.  Essentially Met housing applicants should have monthly cash income equal to or greater than one-half a month's rent.
3)   Have a successful track record as a tenant or property owner.  Present and past landlord contact information must be provided resulting in a positive reference from your landlord or previous landlord(s). 
4)  Stable income and stable housing history are important. 
5)  Your public record cannot show any felonies or serious misdemeanors beyond minor traffic issues.  Civil cases filed including evictions will cause your application to be turned down.
6)  Additional information may be required related to questions/issues on our application.
************************************************************************************************************** 
LEASE WITH THE OPTION TO BUY:  
Here is an opportunity for home ownership.  Our terms are flexible.  This program allows you to "try before you buy".  Call Bill Your (740-360-2142) and let's talk over how we can put you in a home as well as help you purchase that home should you decide that is what is right for you.
*****************************************************************************************
THIS PROPERTY MAY BE PURCHASED – TERMS TO BE NEGOTIATED 

TERMS:  All terms on this page, as well as those any where on our website, or any other printed information are subject to change at any time without notice.
    
PETS: Approved pets permitted. A pet fee will be required; dog owners must get tenant's insurance.
ADDITIONAL INFORMATION ABOUT THIS OR ANY OTHER AVAILABLE HOUSE OR APARTMENT:  Contact:  Bill Your   Text/Phone (740) 360-2142. E-mail: bill@itsallyours.com OR Nancy, 740-751-2010.